The term "brain drain," much like "third world country," or "alien resident," is an expression that has always rubbed me the wrong way, based on its connotations and consequent implications. "Brain drain" can be defined as the departure of educated or professional people from one country for another, usually for better pay or living conditions. It has also been described as the emigration of highly trained or intelligent people from a particular country, where all or the majority of intelligent, skilled, or capable resources within a given field or geographic region, leave the area because of various factors including the lack of high paying jobs or professional opportunities (the dictionaries definition, not mine).
The concept of a "brain drain" suggest that those who remain in the country in question, are not as intelligent, skilled, or apt as those that opt to leave. This, in reality, is far from the case as there are many other factors that can play a role in a person's ability or lack thereof to emigrate- resources, finances, opportunity, etc., but most certainly not solely due to intellect or skill set. The connotation, in short, is negative and condescending. Comparatively, what is implied in "third world," is that those countries are far removed from the most developed countries and are in a world of their own; what is implied by "alien resident," is that those that are immigrants are for lack of a better word than foreign…are alien; and, what is implied by "brain drain," is that those who remain in the country people are emigrating from, are not the smartest intellectually speaking within the country.
This terminology is steeped in elitism, creates hierarchy, and encourages dichotomies of separatism amongst those that are educated, skilled, local, and international. The saying suggests that the smart people leave the country while the less than smart people remain, which insinuates a lack of intelligence for those staying there. Instead, of labeling it as a drain, more emphasis should be placed on what is going on in-house/country, and what can be done to avoid people, regardless of their skill set and education, wanting to seek employment and opportunties elsewhere.
To thwart the reality that people in developing countries, especially those with a formalized education and/or skill set, seek out employment and opportunities in general elsewhere, we as a nation need to minimize the need for an exit by tackling/working on the following areas: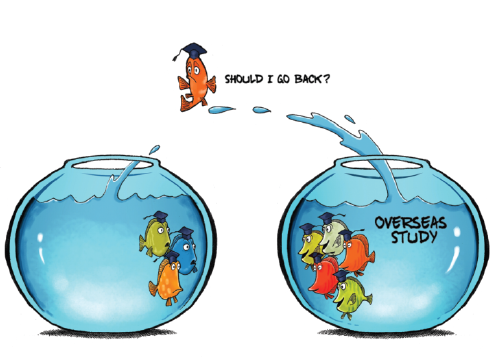 Diversify local and regional subject-matter and specialized program offerings, and elevate the UWI-brand internationally- instead of having our young people seek to acquire a college degree elsewhere, instead of offering athletic and academic scholarships to schools outside of our region, redirect those scholarship programs and opportunities to UWI's in our region, to preserve the localization of higher education. Additionally, the global sentiment that degrees from Caribbean and African nations are not on par or comparable to many equivalent degrees in developing countries is inherently biased, racist, and a prime example of institutionalized racism and anti-blackness- most countries where the degrees are not considered on-par are in countries that are predominately black. That topic, however, is a different can of worms for a different discussion day.
Stimulate and diversify the job market and its offerings- increasing the number of good paying jobs, where people are able to make a living wage, where the cost of living does not jeopardize the standard of living, will decrease the likelihood of people looking elsewhere for opportunities. Why get a degree when the money being compensated after getting it results in people living hand-to-mouth? More jobs result sin more employees, resulting in more money being pumped back into the economy.
Reduce international-focused scholarships and educational visas, and increase local and regionally-based ones- as mentioned in recommendation 1, not only should we reduce the number of academic and athletic scholarships granted for study outside of the region, the number of scholarships offered to other UWI's in the region should be increased, to encourage regional and local education, focus, and development, which in return encourages our youth and young adults to attend college in our country, or in our region. With programs like the Barbados National Development Scholarship Program, those should solely be focused on scholarships to other UWI's in the region, to emphasize the value that the schools and the education they offer bring to the region, given the already established commitment for the National Development Scholarship, of using what they learn to return to and contribute to their home countries.
In light of the recent mass lay offs, our country has an obligation to provide viable, sustainable, and living wage job opportunities for its workforce. Reducing the need and desire to leave helps promote economic growth over time, and stability. Ridding our government of universal ills like corruption and nepotism, also decreases the need to look elsewhere for opportunity. To further encourage our local highly skilled and educated workforce to stay 'put,' requires a macro-level approach to economic stimulation, which will then stimulate change over time at the micro level. We should be creating opportunities and programs where our youth and young adults are able to innovate, create, and to realise their potential via entrepreneuship hubs, technological innovation fairs, symposiums, and showcases, and providing employment opportunities that compliment the diversified programs being offered.
What has been recommended is a start to a historic and longstanding issue that many developing countries face. The suggestions given are not the be all and end all, but they do however provide a solid place where we can begin the process of looking within for solutions, instead of looking outside of our region, to places that may not have our best interest as a nation and region, at heart. We need to put on our life vests first, and take care of ourselves, before we are fully prepared and equipped to do the same for others.